Hashtags may be omnipresent on social media now, but I still most associate them with Twitter.
I wouldn't be surprised if you did, too. They're one of the foundations of the network, there before polls and gifs and other bells and whistles that keep Twitter fun.
And they're crazy important for marketing, appearing in half of all Super Bowl commercials in 2015. But we don't just use them in advertising, do we?
Hashtags are omnipresent for a reason. They can be used for:
Live events: most conferences, conventions, and networking events come with a hashtag on the front page of the program.
Online events: conversation on Twitter is a popular way to publicize webinars, Q&As, AMAs, Twitter chats, and other online events.
Campaigns: brand a campaign with a hashtag, the same way it gets a tagline.
Topics: add your content to a collection of similar pieces by hashtagging it with the topics it talks about.
#AnythingYouWant
But like every other part of your marketing campaigns, your hashtag use needs to be strategically planned, executed, and measured.
Why you need Hashtag Tracking Tools?
You might be wondering why searching in your Twitter tool of choice won't work for using hashtags.
And in some cases, it will.
On the fly research, random searching, and preliminary or informal things like that? It's not super necessary.
But when a hashtag is a huge part of your marketing? Yep, you're gonna want to keep a closer eye on that.
Here are a few things you'll be able to do with the tools I'll talk about below:
Make campaign reporting easy by tracking the hashtag, the tweets using it, and important metrics, from the get-go instead of collecting it all at the end of your campaign.
Monitor competitors' branded hashtags to see their campaigns, if/how people are talking about them, etc.
Follow topic-related hashtags related to your industry to find news and resources.
Moderate your event's hashtag in between live sessions to find people talking and asking questions about it.
Identify your community – 31% of brand mentions don't include that brand's handle. It's common for users to hashtag a brand's name instead.
How to choose what to track
If you're not sure which hashtags to start with, here are a few ideas:
Your brand name
Industry topics/keywords
Industry Twitter chats
Competitor names
Your campaign hashtags
Competitor campaign hashtags
Events you're attending (or want to)
Hashtags can't help bad content. Learn how to write more impactful tweets with our checklist.
6 tools to make hashtag marketing easier
1. Hashtagify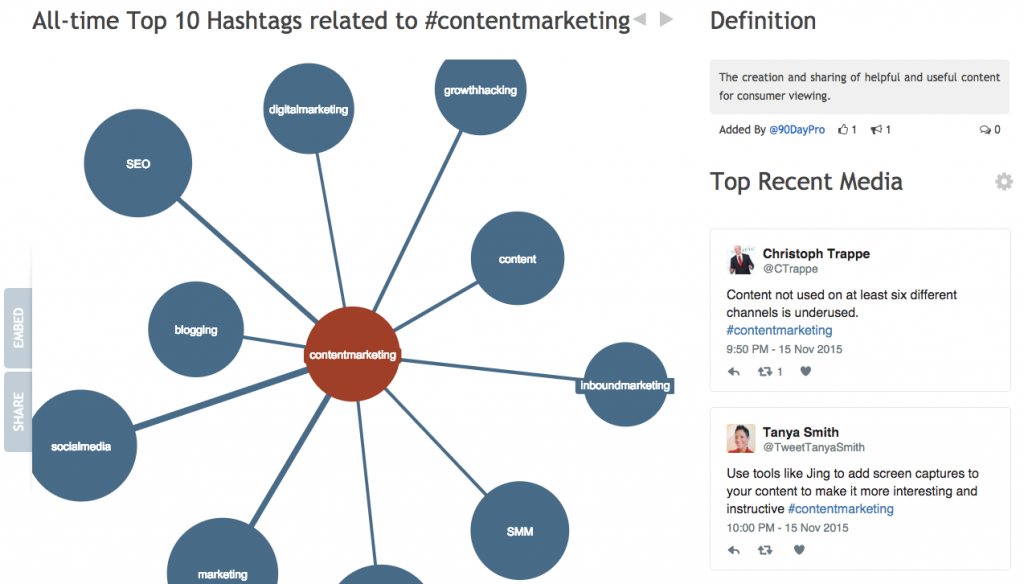 Hashtagify builds a sort of profile for any given hashtag. See top related hashtags and how closely they're related, top tweets using them, study usage patterns, and even get definitions of the hashtag submitted by users.
The focus on related hashtags, correlation, and popularity makes it really great for discovering new opportunities and ways to tag your tweets. The ability to filter out tags with a lot of spam also lets you focus on quality.
Another cool activity is that you can measure your own influence within a hashtag's stream and get suggestions on new ones to use in your marketing.
Pricing: starts at $10/month.
2. RiteTag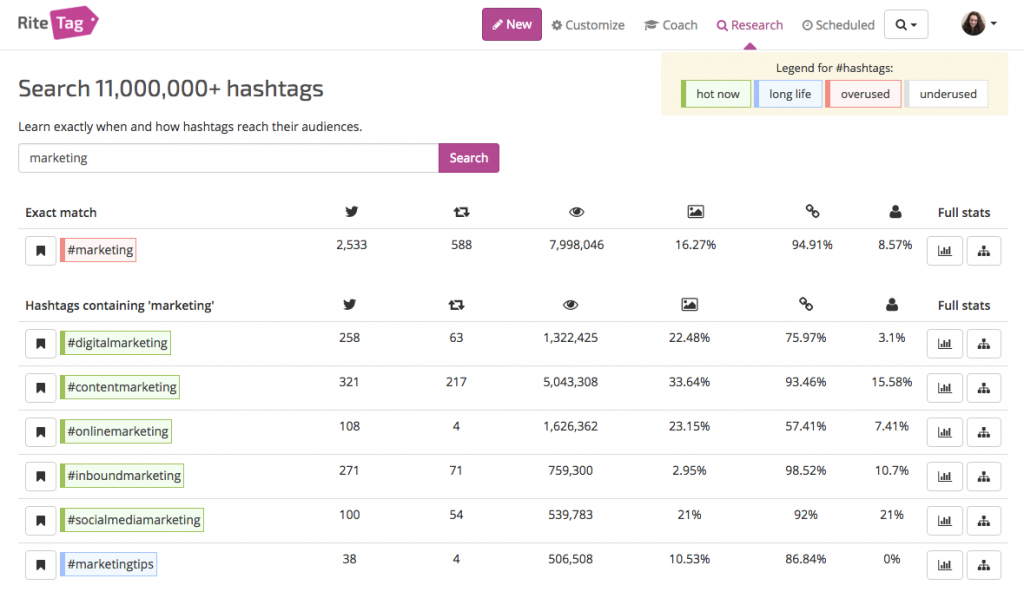 RiteTag helps you discover new keywords. It measures the popularity of a hashtag, but by engagement instead of frequency. That means it recommends hashtags that get tweets liked, clicked on, and retweeted – not just ones that get used a lot.
It also looks at whether it's overused, underused, or has the right balance of volume and competition – sounds a lot like SEO keyword research tools!
You can also download the Chrome extension, which will integrate with a ton of popular apps to tweet from. As you type, it will look at the hashtags you're using and analyze them as you go.
Pricing: starts at $15/month.
3. TweetChat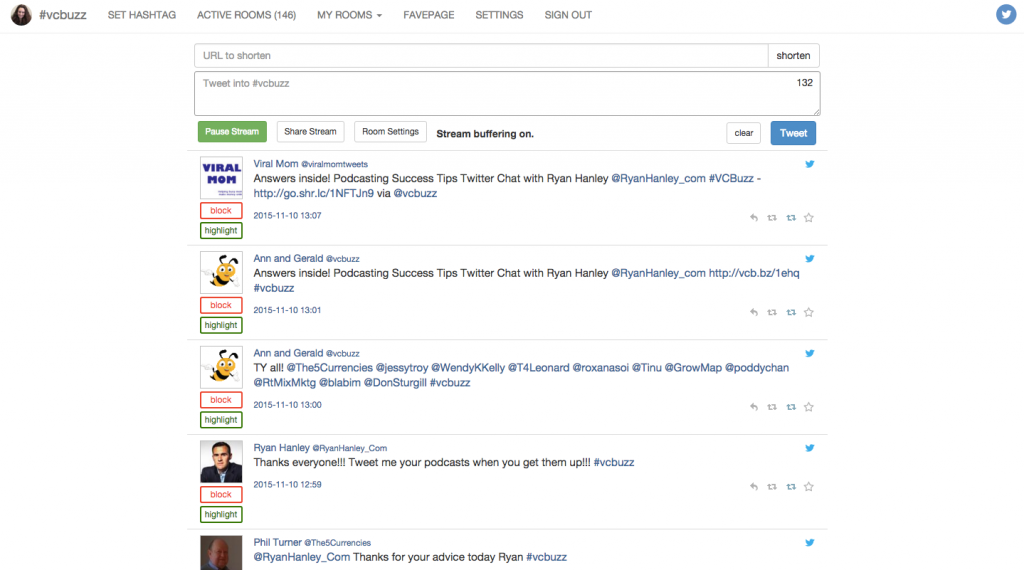 As fancy as Twitter tools get, TweetChat will always be my tried and true favorite for Twitter chats. Although it really works great for any live event, not just hashtags. If you're at a conference, webinar, or event and want to both tweet and see tweets about it, you can use this.
Above all, TweetChat keeps it simple, and that's what I love. You type one hashtag to follow in, and enter its "room." New tweets pop up in real-time, which you can engage with right there.
And because it's designed specifically for things like chats, where every tweet needs the same hashtag, it will automatically tag it on to the tweet for you! Hands down, most useful feature.
It's most useful for real-time/live monitoring – because it's so simple, monitoring or engaging with historical tweets would be difficult. But what it's designed for, it does so well.
Pricing: free
4. TweetDeck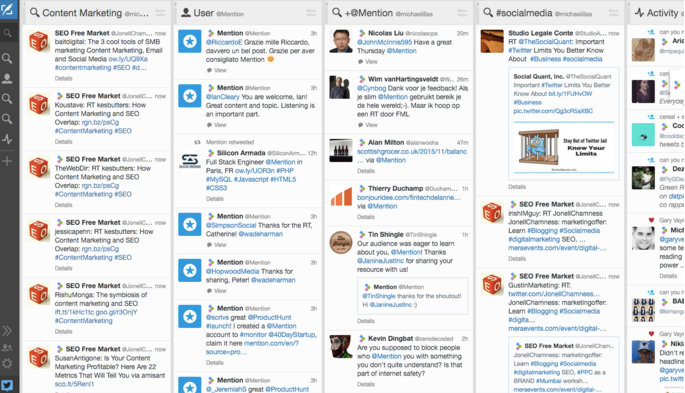 Again, this one keeps things simple. Like TweetChat, TweetDeck will be best if you're only finding and engaging with hashtags, but don't necessarily need advanced features or statistics.
But unlike TweetChat, it creates long-term streams that will be there waiting for you, updated each time you log in. This make it better when you're not only monitoring in real time.
For example, if you're watching topic hashtags to find reading material, a simple TweetDeck stream will do just fine. Or if you use TweetChat for your actual chat, but want to see if people are also using the hashtag throughout the week.
It's also the tool to use if you want to create and embed custom Twitter timelines.
Pricing: free
5. Hashtracking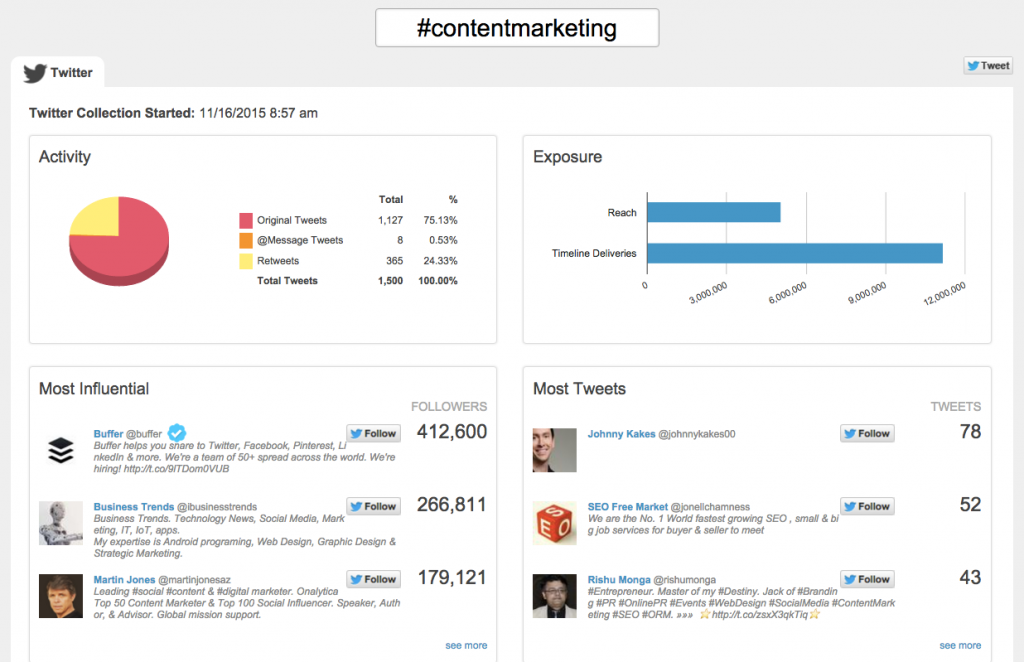 Hashtracking might go more in-depth into hashtags than any other tool here, since it's so specialized. In addition to stuff like volume and frequency data, influencers, and reach, you also get some pretty unique stats compare to the other tools here.
For example, see what platforms people are tweeting that hashtag from – is it primarily mobile or desktop? Also find out the "happy hour," tweets/minute velocity, and related hashtags.
Another cool feature of Hashtracking is that you can easily create embeddable infographics, making your data double as content.
Pricing: starting at $29/month
6. Mention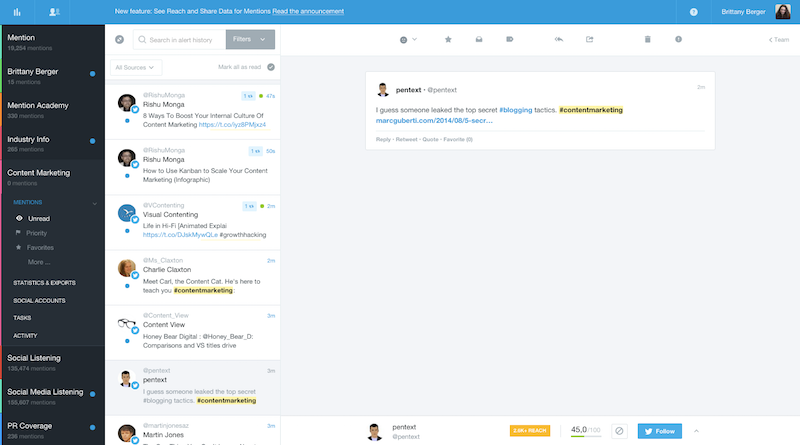 Mention monitors all Twitter data in real-time, making tracking hashtags really easy. Along with common stats like reach and share data, influencer identification, and frequency/volume.
But you can also get much more advanced. Sentiment analysis will help you easily identify the tone of each tweet. Engage with tweets from your dashboard, or assign them to someone else on your team. Finally, export the data via a .csv or generate a PDF report.
And here a guide to help generate leads from Twitter.
This one takes the measurement and stats of half the items on the list, and the engagement features of the others, in one tool. (And no, that's not my obvious bias talking.)
Pricing: starting at $29/month
Conclusion
Hashtags are one of the most basic parts of Twitter, but that doesn't mean your strategy for them can be. There will be a few that you need to keep a close eye on – to see every tweet, engage, and measure. And these tools will help.
How do you use hashtags in your marketing? Share in the comments!